These are some of my recipes our guests always ask me to share with them.
Enjoy!
Unless otherwise noted, all recipes are for 4 servings.
Caribbean French Toast
Ingredients
1 teaspoon ground cinnamon
1/4 teaspoon ground nutmeg
1 tablespoon sugar
1 tablespoon fruity hotsauce
4 tablespoons butter
4 eggs
1/4 cup milk
1/2 teaspoon vanilla extract
8 slices cinnamon or coconut bread (see recipe here)
1/2 cup maple syrup, warmed
2 Bananas
Rum (optional)
Directions

In a shallow container, combine cinnamon, nutmeg, and sugar.
In a 10-inch or 12-inch skillet, melt butter over medium heat.
Whisk together cinnamon mixture, eggs, milk, fruity hot sauce and vanilla.
Dip bread in egg mixture.
Fry slices until golden brown, then flip to cook the other side.
(Drizzle with rum.)
Serve with syrup and grilled banana slices.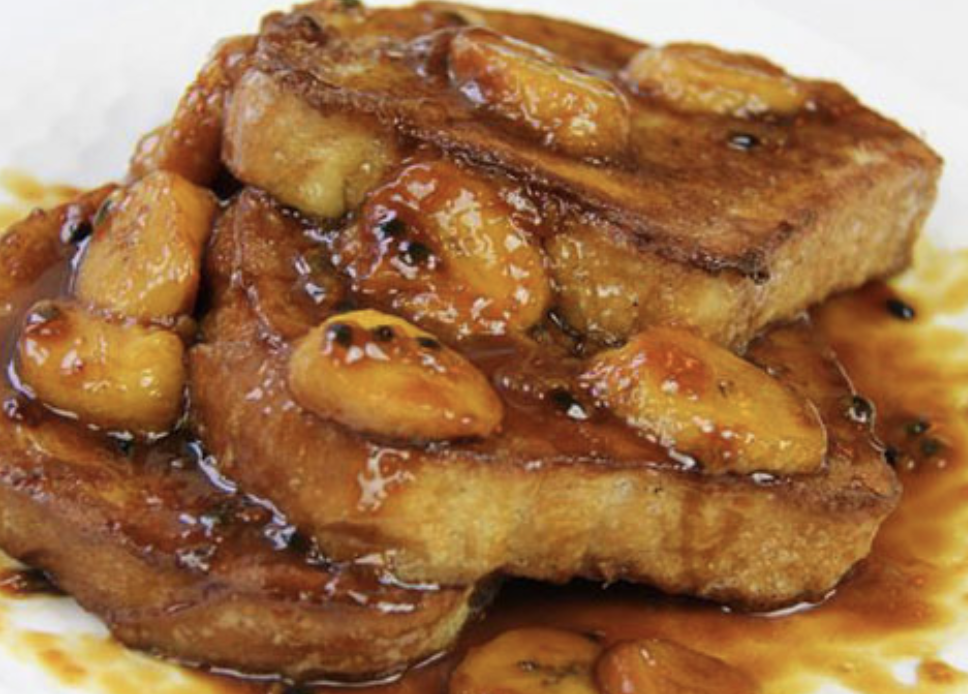 Anya's Breakfast Sandwich
Ingredients
4 Slices Toast
4 Eggs
4 Slices Ham or Turkey Ham
4 Slices Cheese
Arugula or Fresh Spinach
Red or Green Salsa
Macerated Onions (thin sliced onions soaked in vinegar overnight) 
Directions

Toast the bread, spread the salsa, put the arugula/spinach and macerated onions on top. Top with the ham and the cheese. Broil for 2 minutes on low.
In the meantime, fry the eggs sunny side up. Layer them on top of the sandwich and sprinkle with a salty seasoning (I use home-made taco seasoning).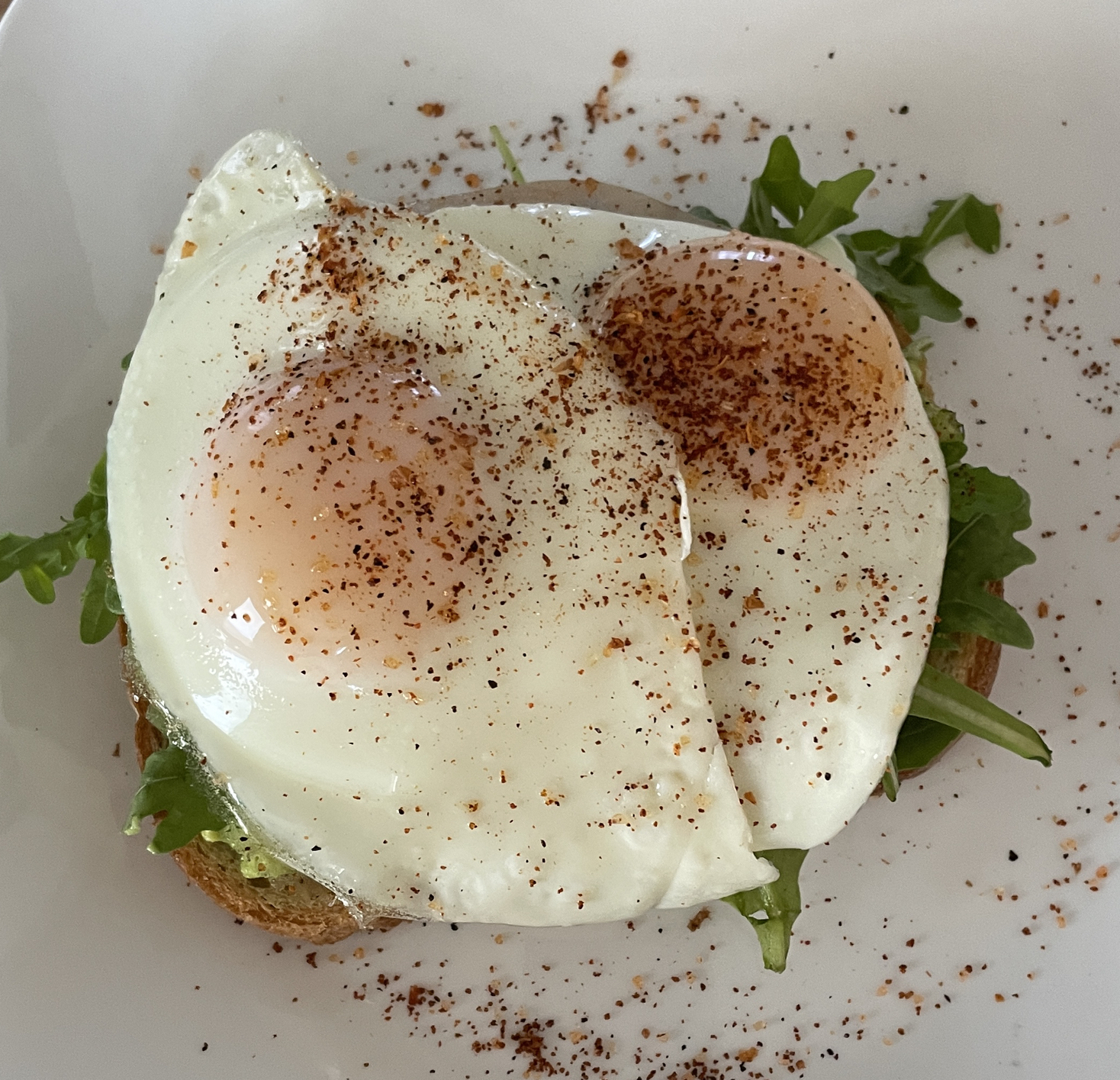 Shakshuka
Ingredients
3 cloves garlic
3 pounds ripe plum tomatoes, cut into 1/2-inch pieces
1 medium onion, finely chopped
4 tablespoons extra-virgin olive oil
2 tablespoons chopped fresh parsley, plus more for garnish
¾ teaspoon salt
½ teaspoon ground pepper
2 large green chiles, finely chopped
1 teaspoon ground cumin
⅓ cup chopped fresh basil
½ cup crumbled feta cheese
4 large eggs
Hot sauce for serving
Directions

Preheat oven to 450 degrees F.
Slice 2 garlic cloves. Toss with tomatoes, onion, 3 tablespoons oil, parsley and 1/4 teaspoon each salt and pepper in a large bowl. Spread evenly on a large rimmed baking sheet or in a shallow roasting pan. Roast until the tomatoes are shriveled and browned, about 45 minutes.
Chop the remaining garlic clove. Heat the remaining 1 tablespoon oil in a large skillet over medium heat. Add the garlic and chiles; cook, stirring, for 2 minutes. Add cumin and cook, stirring, for 30 seconds. Stir in the tomato mixture, the remaining 1/2 teaspoon salt and basil. Bring to a simmer and cook, stirring occasionally, until the tomatoes are mostly broken down, 6 to 8 minutes.
Make 4 deep indentations in the sauce with the back of a spoon and carefully crack an egg into each. Sprinkle the eggs with the remaining 1/4 teaspoon pepper. Cover and cook over medium-low until the whites are set, 6 to 8 minutes.
Remove from heat, sprinkle with feta and let stand, covered, for 2 minutes. (The eggs will continue to cook a bit as they stand.) Garnish with parsley and serve with hot sauce, if desired.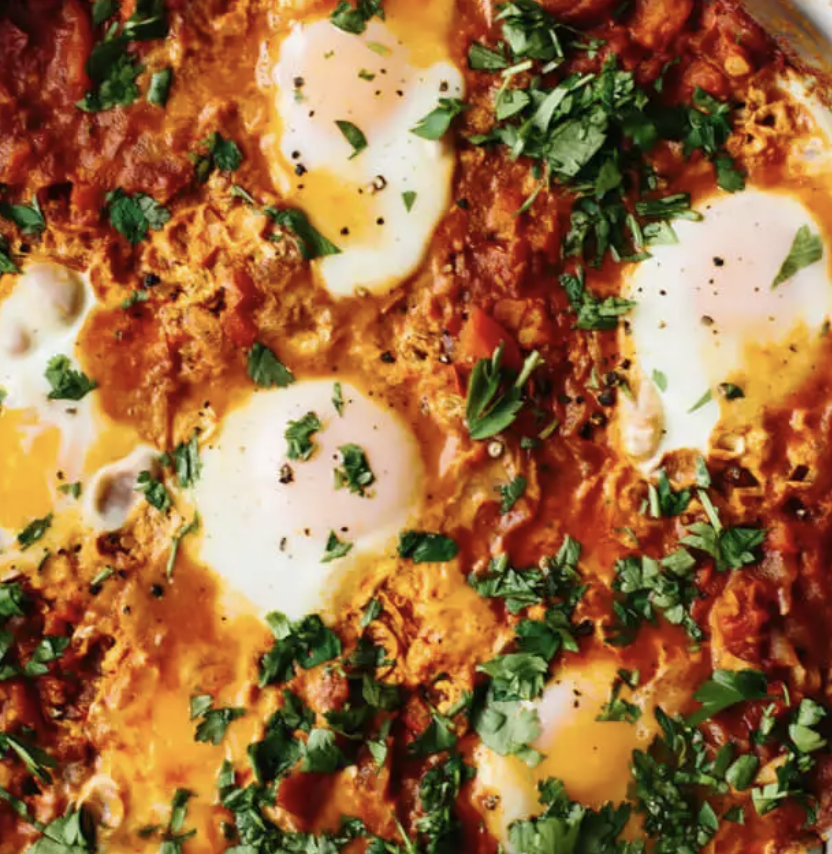 Tomato and Basil Frittata
Ingredients
1 ¼ cups cherry tomatoes – halved length-wise
1 ¾ cup diced or shredded fresh mozzarella (Feta works too)
1/3 cup heavy cream – room temperature (or 3 tsp Sour Cream)
7 large eggs – room temperature
½ cup basil leaves – roughly chopped
½ tsp. kosher salt
3 tbsp. extra virgin olive oil (or lightly spray with Light Olive Oil)
Directions

Heat an 8-inch ovenproof, nonstick skillet over medium heat. Add the olive oil and tomatoes. Season the tomatoes with ¼ teaspoon salt and cook until they are soft and beginning to fall apart. This takes about 3 to 5 minutes.
In the meantime, whisk the eggs in a large bowl. Add the heavy cream, basil and remaining salt and whisk all together until light.
Pour the egg mixture over the tomatoes, sprinkle with mozzarella and cook for 2 or 3 minutes. Using a rubber spatula, loosen the cooked eggs from the sides and bottom of the pan and tilt the pan to allow the raw egg to run underneath.
Cook for another minute and repeat until there are no runny eggs. Place the whole pan under the broiler and cook for 5 to 6 minutes or just until you are sure the eggs are set.
Slide the frittata onto a board, slice and serve.
That's it! Enjoy your fantastic and fresh tomato frittata.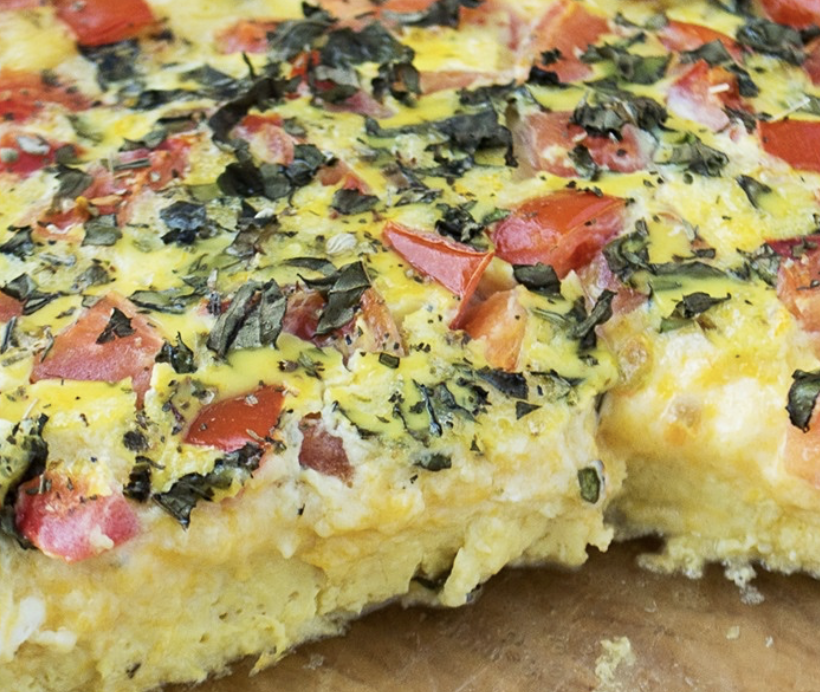 Open-faced Spanakopita Grilled Cheese
Ingredients
4 slices good-quality bread (I use Ciabatta or top quality thickly sliced whole grain toast)
1 clove garlic, sliced thin
2 tablespoons olive oil
1 shallot or 1/4 red onion, sliced thinly
One 10-ounce bag baby spinach, or 2 big handfuls
Fresh mushrooms, sliced
Pinch of salt and freshly cracked pepper
(1 teaspoon chopped dill, optional)
2 ounces feta, crumbled
4 slices Provolone, Gouda or Sharp Cheddar) cheese
Directions

In a medium skillet, heat olive oil over medium-high heat, add the garlic and shallot/onion, and cook 4 minutes, or until the garlic is golden-brown. Add spinach, mushrooms and salt and pepper, and cook for few minutes, until the spinach is wilted and most of the moisture is cooked out. Add dill and feta, turn off heat, and mix.
Toast your bread, add the spinach mixture on top, and top off with a slice of cheese. Broil on high for 2 minutes.
I add a sunny-side-egg on top.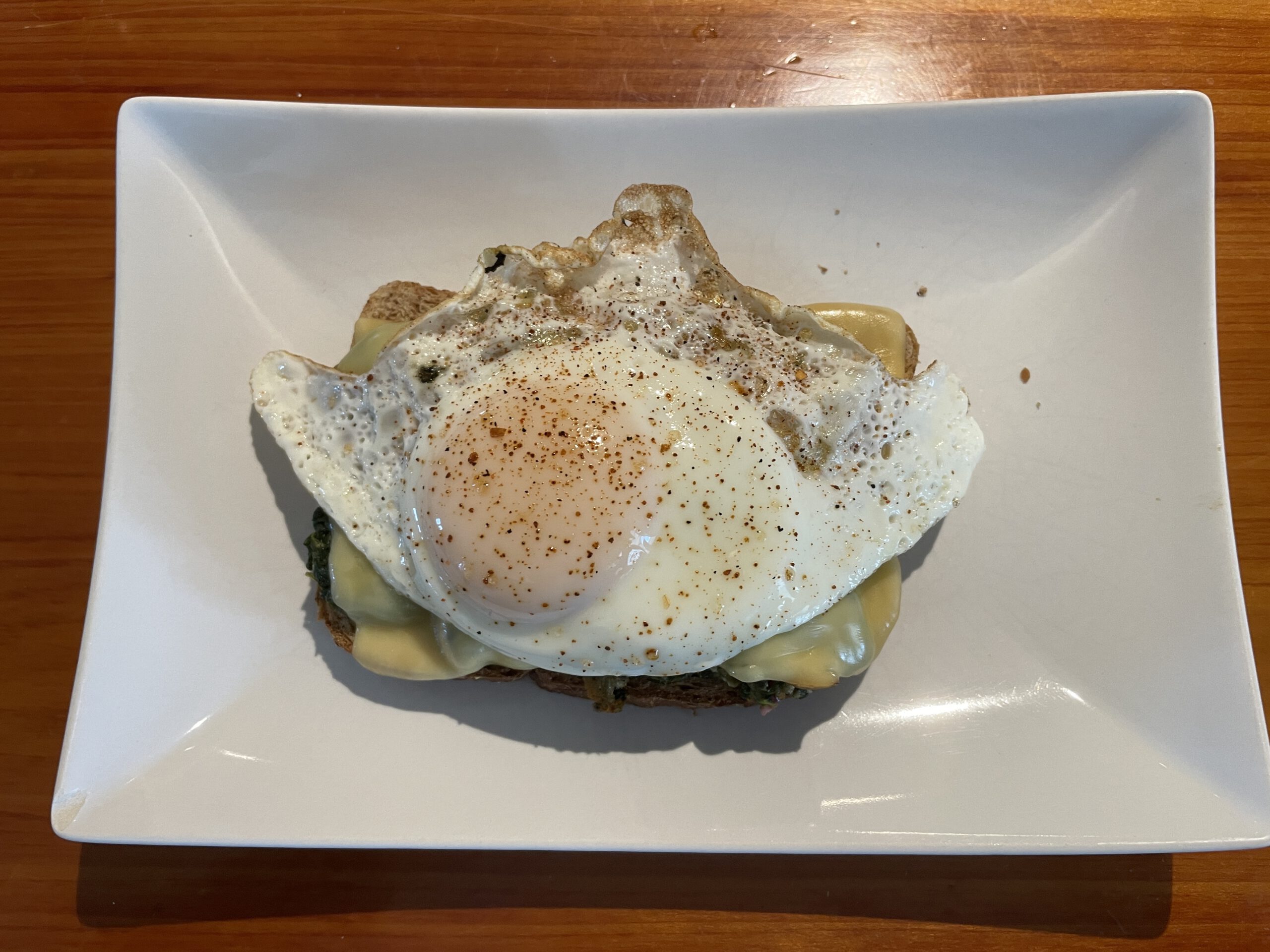 Fish or Shrimp Ceviche
Ingredients
1 1/4 lbs. fish or medium shrimp, peeled, deveined and tails removed
1/3 cup fresh lime juice
1/3 cup fresh lemon juice
2 medium roma tomatoes, diced (1 cup)
3/4 cup chopped red onion
1/2 cup chopped cilantro
1 medium jalapeno pepper, seeded if preferred for less heat, diced
Salt and pepper, to taste
1/2 medium cucumber, peeled and diced (about 1 cup), or green pepper
1 medium avocado, diced
Directions

Cut shrimp or fish into small pieces (about 1-inch).
In a medium non-metal bowl combine shrimp, lime juice, lemon juice, tomatoes, onion, cilantro, jalapeno pepper and season with salt and pepper to taste. Add fish or shrimp.
Transfer to refrigerator and let rest 2 – 3 hours.
Toss in cucumber and avocado and serve (if desired you can strain off some of the juices). It's delicious with tortilla chips or over tostada shells.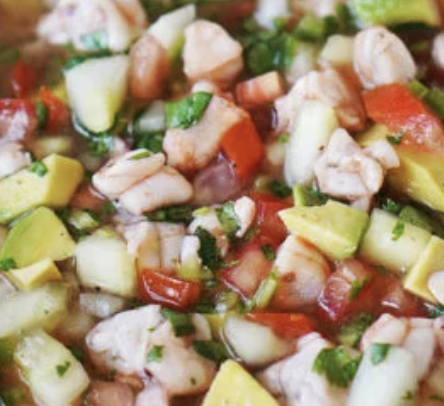 Spaghetti with Clams
Ingredients
8 ounces spaghetti (can use up to 3/4 pound of pasta if needed)
Salt for pasta water
3 tablespoons extra virgin olive oil
3 to 4 cloves garlic, minced (about 1 heaping tablespoon)
Pinch red chili pepper flakes
2 (6-ounce) cans minced clams, including the liquid
1/2 cup dry white wine
1 teaspoon lemon zest
2 tablespoons chopped fresh parsley
Freshly ground black pepper to taste
Directions

Heat 3 Tbsp of olive oil in a sauté pan on medium heat. Add the minced garlic and the red chili pepper flakes. Cook for 30 seconds to a minute, until the garlic just is on the edge of browning.
Add the white wine to the pan. Open the cans of clams and squeeze out the clam juice from the cans into the pan as well. Raise the temperature to high and let boil to reduce the sauce. (Put pan on largest burner on high heat to help the sauce reduce more quickly.). There should be about 1/4 to 1/3 cup of liquid still in the pan. Add the chopped clams, and return to a simmer. Then stir in the minced parsley and the lemon zest. When the pasta is done to the point of al dente (cooked but still a little firm when you bite), drain it and place it in a serving bowl. Pour the sauce over the spaghetti and toss to combine.
Sprinkle with freshly ground black pepper to taste. Serve with a little more fresh parsley sprinkled over the top and fresh grated pepper. Serve immediately with fresh grated parmesan.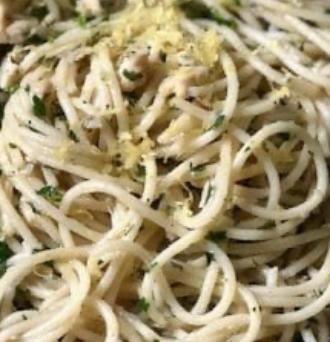 Asian Glass Noodle Salad
Ingredients
7  oz Rice Vermicelli Noodles
Fresh or dried Lemongrass
1 white onion (thinly sliced)
1 red onion (thinly sliced)
Chopped Ginger
Grape Tomatoes (halved)
1 can sliced Water Chestnuts
7 oz uncooked Chicken Breast (cut into strips) or Shrimp
1 bunch Geen Onions (chopped)
1 bunch Cilantro (chopped)
2 Limes (juiced)
4 Tbsp Fish Sauce
2 Tbsp Sugar
Red Pepper Flakes to taste
4 Tbsp roasted Peanuts or Cashews
OPTIONAL:
Cucumber (cut into strips)
Fresh Bean Sprouts
Watercress
Peppers or Sweet Peppers (thinly sliced)
Carrots (thinly sliced or julienned)
Tofu
Jalapeños (deseeded and thinly sliced)
Directions

Soak the noodles in water for at least 20 minutes until they are soft.
Add Lemongrass, onions and ginger to an oiled pan (I use avocado oil) and cook over medium heat until lightly browned. Add chicken in strips / shrimp and cook over high heat until done. Put mixture into a big bowl and add drained glass noodles, grape tomatoes, green onions, water chestnuts, cilantro and any optional ingredients. Mix lime juice, fish sauce and sugar (and red pepper flakes if using) and pour over salad. Mix well and granish with peanuts / cashews.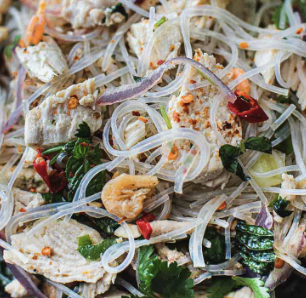 Caprese Flatbread
Ingredients
FOR FLATBREAD (IF MAKING YOUR OWN):
2 cups all-purpose flour, plus more for surface
2 tsp. baking powder
1 tsp. kosher salt
1/2 tsp. baking soda
1 cup plain Greek yogurt
2 tbsp. olive oil
Vegetable oil, for pan
FOR TOPPING:
12 oz. grape tomatoes, halved
1/4 small red onion, sliced
2 tsp. extra-virgin olive oil
2 tsp. freshly chopped oregano
Kosher salt
Freshly ground black pepper
8 oz. mozzarella, sliced into 1/4″ thick rounds
Balsamic glaze, for serving
2 cups arugula
Directions

Preheat oven to 400°. In a large bowl, whisk to combine flour, baking powder, salt, and baking soda. Add yogurt and oil and mix until no dry spots remain.
Lightly flour a clean work surface. Transfer dough to surface and knead until smooth, 3 to 4 minutes, adding more flour if the dough is sticky.
Divide dough into 3 pieces, then roll each piece into 1/4″ thick round. Heat a large skillet or griddle over medium-high heat and add enough vegetable oil to coat the bottom of the pan. Cook flatbreads until golden on both sides, about 2 minutes per side. Continue cooking flatbreads, adding more vegetable oil as needed.
In a medium bowl, combine tomatoes, red onion, oil, and oregano and season with salt and pepper. Top each flatbread with cheese, tomatoes, and onions and bake until cheese is melty, 15 minutes. Drizzle with balsamic glaze and top with arugula before serving.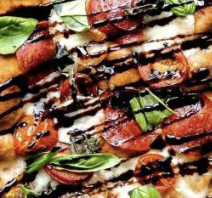 Greek Salad
Ingredients
1 hothouse cucumber, unpeeled, seeded, and sliced 1/4-inch thick
1 red bell pepper, large-diced
1 yellow bell pepper, large-diced
1 pint cherry or grape tomatoes, halved
1/2 red onion, sliced in half-rounds
1/2 pound feta cheese, 1/2-inch diced (not crumbled)
1/2 cup calamata olives, pitted
FOR THE VINAIGRETTE:
2 cloves garlic, minced
1 teaspoon dried oregano
1/2 teaspoon Dijon mustard
1/4 cup good red wine vinegar
1 teaspoon kosher salt
1/2 teaspoon freshly ground black pepper
1/4 cup good olive oil
1 can tuna in water
Directions

Place the cucumber, peppers, tomatoes and red onion in a large bowl.
For the vinaigrette, whisk together the garlic, oregano, mustard, vinegar, salt and pepper in a small bowl. Add the drained tuna and mix in well. Still whisking, slowly add the olive oil to make an emulsion. Pour the vinaigrette over the vegetables. Add the feta and olives and toss lightly.
Set aside for 30 minutes to allow the flavors to blend. Serve at room temperature.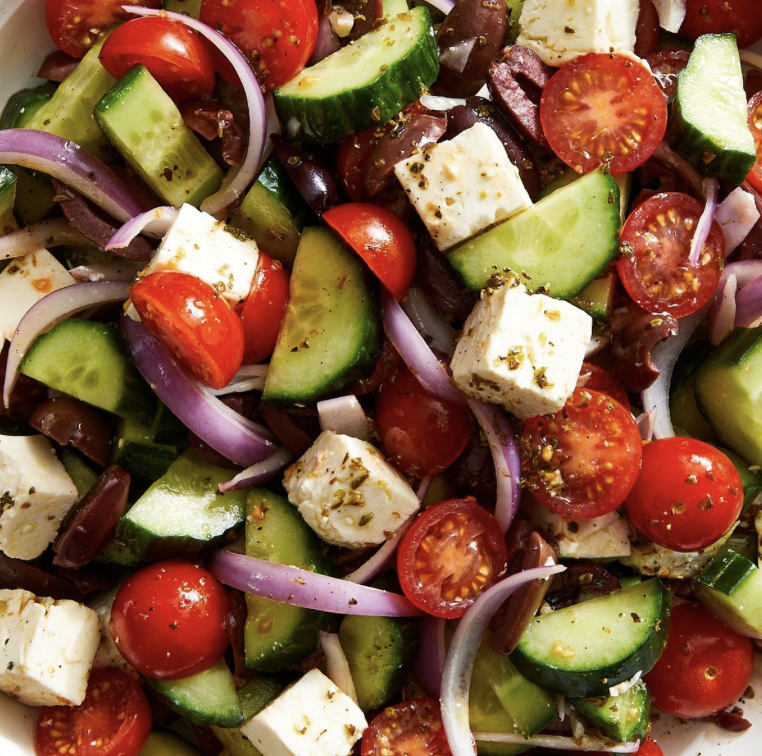 Salade Nicoise
Ingredients for 2 servings
Potatoes (cooked)
Green beans (a small handful) or canned Artichokes
3 hard boiled eggs
Lettuce or Spinach
Black olives
2 medium tomatoes quartered
1/2 red onion, finely sliced
1 can tuna in olive oil, drained, oil reserved (add a little to the dressing)
FOR THE VINAIGRETTE:
1 tablespoon extra virgin olive oil
6 tablespoons red wine vinegar
2 garlic cloves, peeled and finely chopped (or from the jar)
4 tablespoons dijon mustard
Anchovy paste, equivalent of 6 Anchovies
Directions

Tip the lettuce quarters, cooked beans and olives into the bowl with the potatoes. Add most of the remaining dressing and gently toss. Divide the salad between two bowls, and top with the tomatoes, onions and eggs. Flake over the tuna, then drizzle with the rest of the dressing and season.
Note:
If you have leftovers, you can make Pan Bagnat!
Remove the potatoes from any leftover salade niçoise. Stuff the rest of the salad into a split baguette or ciabatta. Drizzle with olive oil and add extra anchovies. Weigh the sandwich down with a baking tray for 30 mins. Cut into wedges and serve with the potatoes on the side.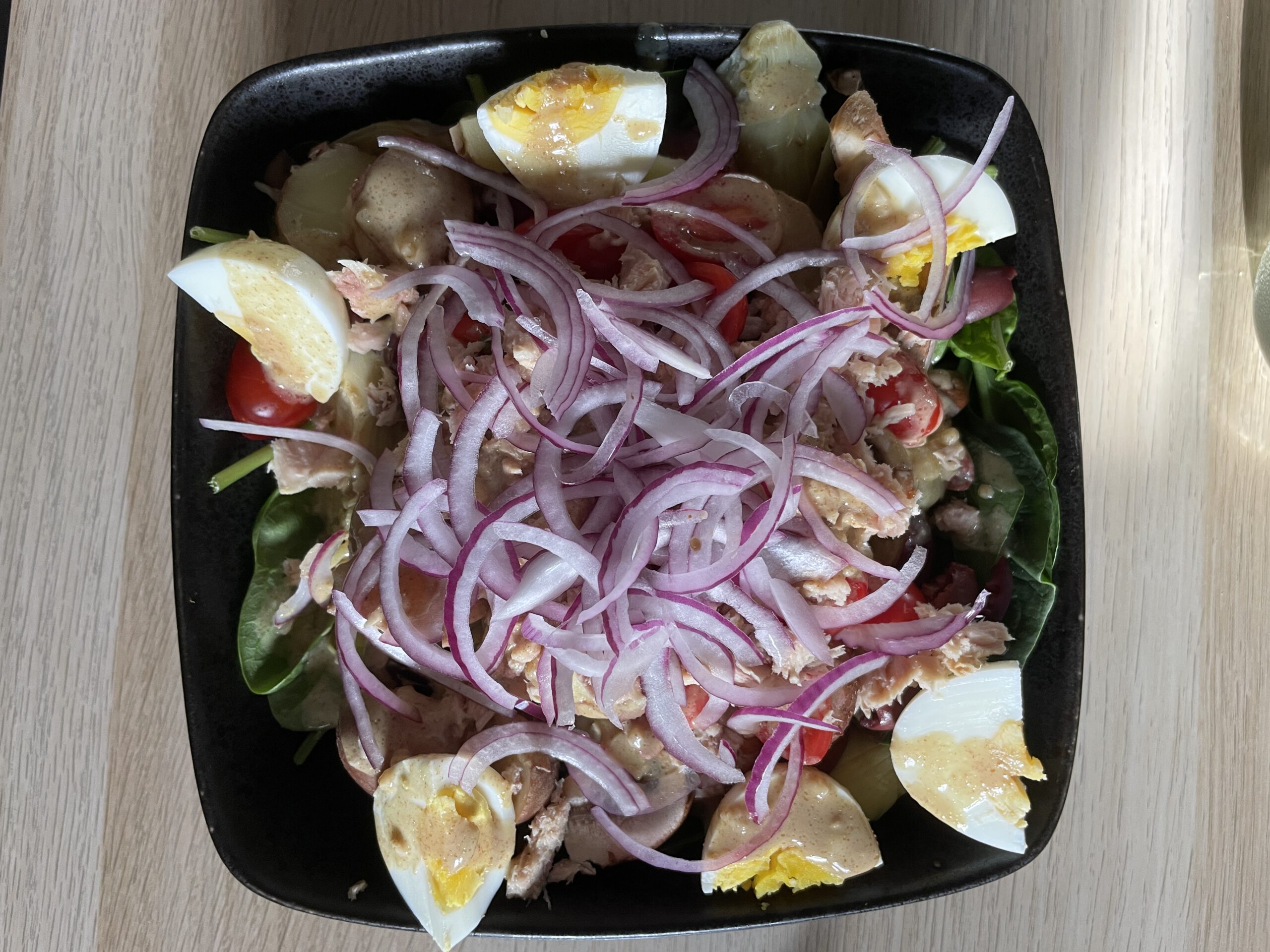 Olive Tapenade
Ingredients
2 garlic cloves, peeled
1½ anchovy fillets
1½ cups pitted niçoise or other imported black olives
¼ cup drained and rinsed capers
2 tablespoons Dijon mustard
1½ tablespoons fresh lemon juice (from ½ medium lemon)
1 tablespoon Herbes de Provence or thyme
¾ teaspoon freshly ground black pepper
6 tablespoons extra virgin olive oil
1 tablespoon whisky or brandy (optional)
Directions
In a food processor, chop the garlic for 5 seconds; scrape the work bowl.
Add the anchovies, olives and capers; pulse 5 times on Chop; scrape the work bowl.
Add the mustard, lemon juice, whisky or brandy (if using), herbs, olive oil and pepper. Process for 15 seconds on Chop; scrape the work bowl.
Add the olive oil and process until you have your desired consistency.
Store in an airtight container in the refrigerator for up to a week.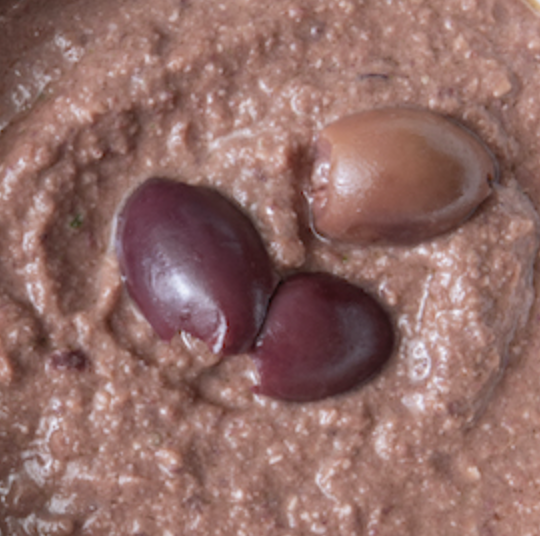 Roasted Garlic Parmesan Cauliflower
Ingredients
1 large head cauliflower cleaned and separated into florets (1 lb.)
4 tablespoons extra-virgin olive oil
Salt
Black pepper
3 garlic cloves chopped
¼ cup grated Parmesan
Directions

Place the cauliflower florets in a rimmed baking dish large enough to accommodate them in a single layer, such as a 9 X 13 rectangular baking dish.
Right in the pan, toss the cauliflower florets with the olive oil, salt, pepper, and garlic / powder.
Roast the cauliflower for 15 minutes at 425 F. Same in Ninja.
Gently stir the florets, (sprinkle them with the parmesan, and continue baking until tender and golden, about 10-15 more minutes. Serve immediately.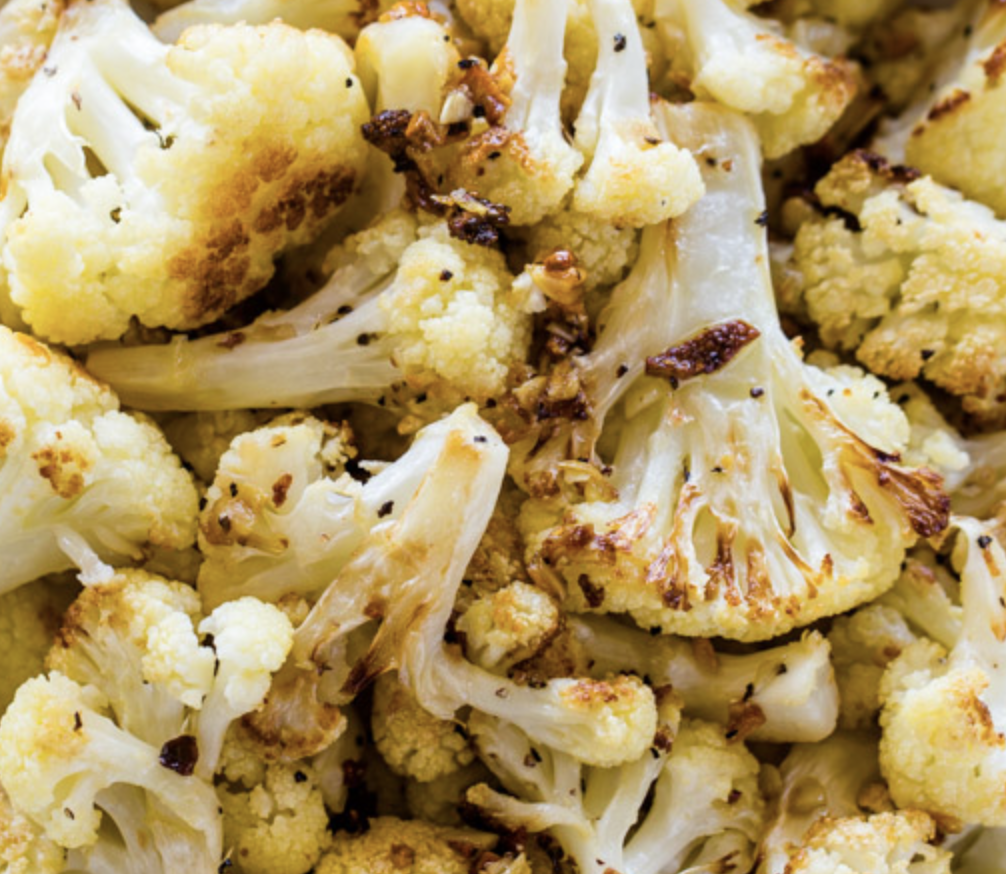 Baked Feta with Olives, Garlic and Sun-Dried Tomatoes
Ingredients
1–6 ounce block feta, drained
1 cup assorted olives, pitted or with pits
1/3 cup chopped sun-dried tomatoes (you can use marinated roasted tomatoes, if you can find them)
3 garlic cloves, thinly sliced
1/4 cup olive oil
1/4 teaspoon dried oregano
Pinch of red pepper flakes
1/4 teaspoon kosher salt
1/4 teaspoon black pepper
Chopped fresh parsley and oregano leaves
Toasted baguette/bread slices or crackers for serving
Directions

Preheat the oven to 375 degrees F. Arrange a top rack in the oven 4-6 inches from the broiler.
Place the feta in a small baking dish. The cheese should have some space around it for the olives and tomatoes.
In a medium bowl, combine the olives, tomatoes and garlic. Then spoon them around the feta.
Whisk together the olive oil, oregano, red pepper flakes, salt and pepper in a small bowl. Pour the olive oil over everything in the baking dish.
Bake the feta for 15-18 minutes, until it just starts browning at the edges. Turn on the broiler, and brown the top of the cheese, about 2-3 minutes.
Sprinkle with chopped parsley and oregano leaves before serving warm with toasted baguette slices or crackers.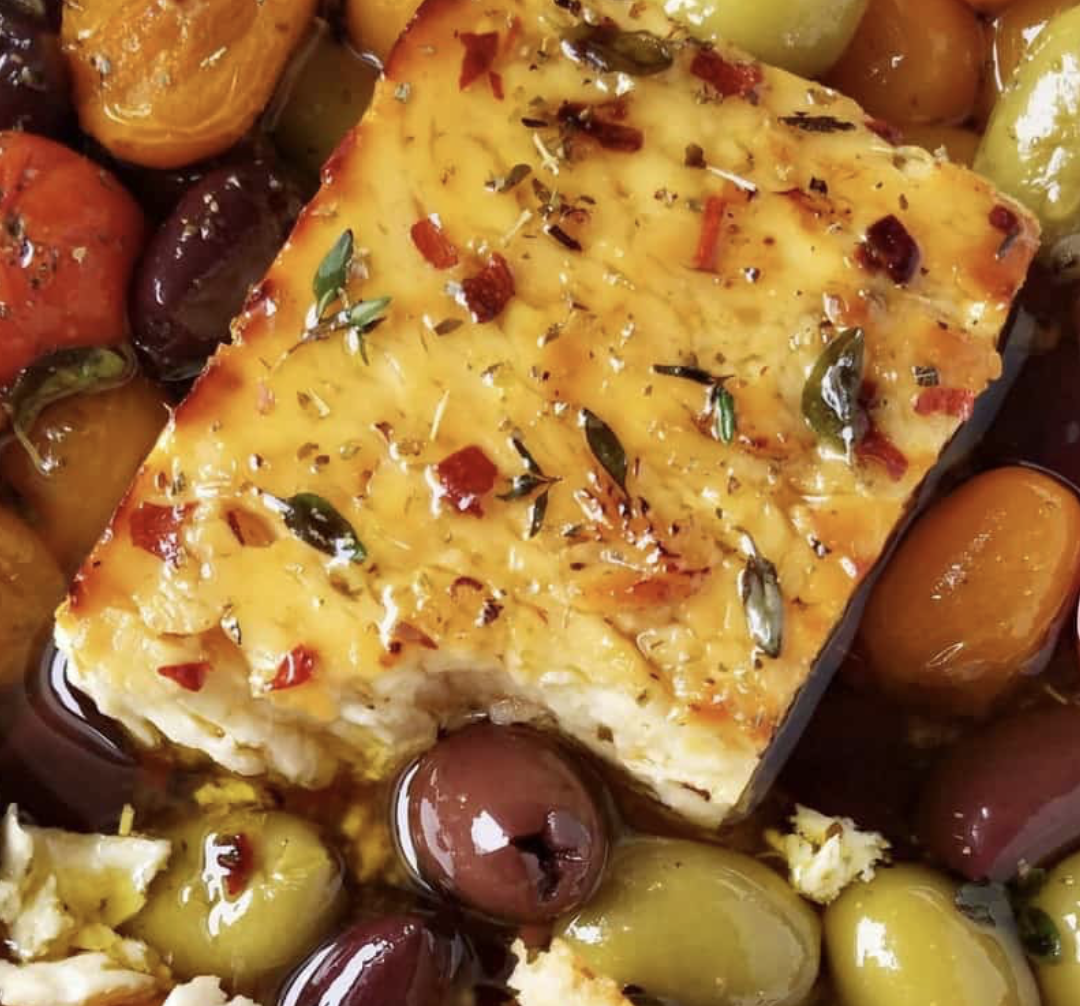 Low carb Chicken Tenders or Niblets
Ingredients
12.5 oz pulled chicken breast (can use canned, but better fresh)
1 cup grated cheese (add in some Parmesan)
1 large egg
Spicy hot sauce
Fresh herbs, green onions etc. optional
Directions

Preheat oven to 400 F.
If using canned chicken, drain liquid from chicken and shred finely using forks.
Add everything else.
Form patties from mixture.
Line baking pan with parchment paper.
Bake for 15-20 mins, allow to cool before serving.
Serve with dipping sauce (not required).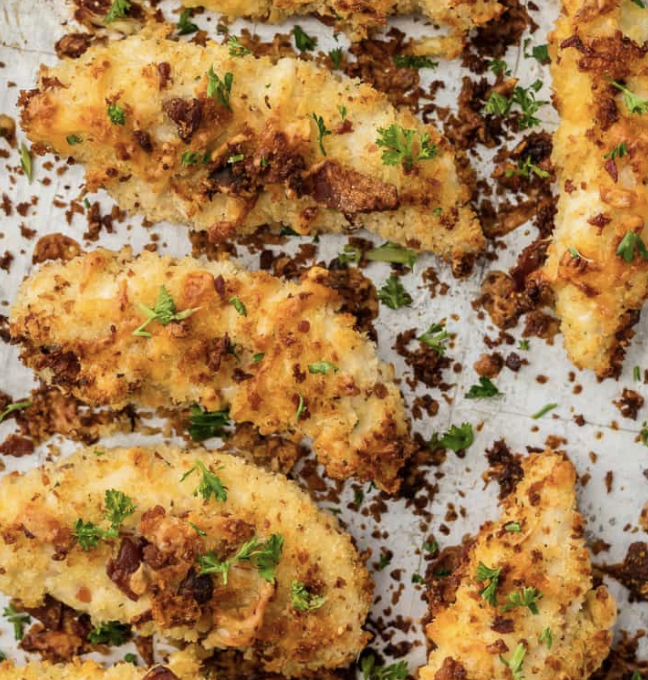 My Favorite Thai Red Curry
Ingredients
14 oz full fat coconut milk 1 can
1/2 – 1 cup Water
2 tbsp red curry paste
1 tsp garlic powder
1 tsp salt plus more as needed
1/2 tsp ground ginger
1/2 tsp onion powder
1/4 tsp chili powder (Thai is great or cayenne pepper)
1 bell pepper any color, thinly sliced
3 – 4 cups cauliflower cut into bite-size pieces (1 small to medium head)
14 oz can diced tomatoes and liquid from the can
freshly ground black pepper
Cooked rice or other grain for serving (optional)
Directions

In a large pot, stir together the coconut milk, water, red curry paste, garlic powder, salt, ginger, onion powder, and chili powder. Add the bell pepper, cauliflower, and tomatoes, and cook the curry until the vegetables have the consistency you would like.
Taste and season with more salt and pepper, as needed. Serve with rice or another grain (if using).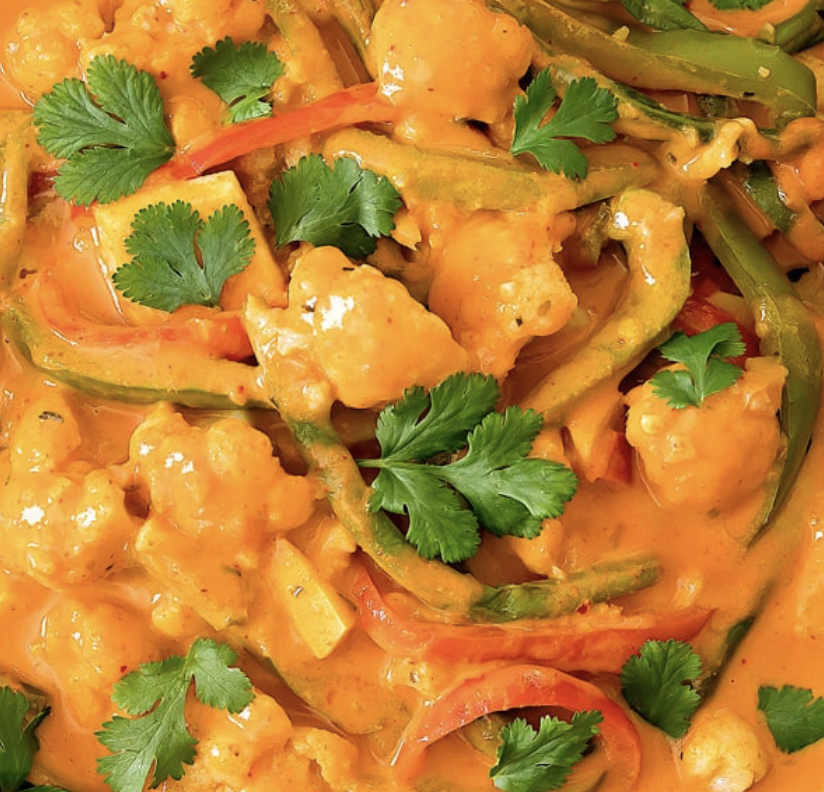 Spaghetti Alla Nerano (Fried Zucchini Pasta)
Ingredients
13 oz spaghetti
4 medium zucchini (tiny sliced)
1.5 cups freshly shredded sharp white cheddar
5 Tbsp Parmigiano Reggiano cheese (grated)
Basil
Good dry white wine
Extra virgin olive oil
Salt & pepper (as needed)
Directions

In a deep frying pan heat a good amount of olive oil over medium heat and fry the zucchini until they're brown, a few slices at time. Place zucchini on a paper towel-lined plate to drain oil.
Once the zucchini are done sprinkle with a pinch of salt and a few hand-torn basil leaves.
Bring to boil a large pot of water. Add salt and cook the spaghetti until very al dente accordingly to the package instructions.
While the pasta is cooking, heat 1 tablespoon of extra virgin olive oil in a sauté pan over medium-high heat. Add zucchini to the pan, reserving some for garnish. Pour a ladleful of the cooking water on the zucchini, mix and cook -over medium heat- for one minute to rehydrate the zucchini.
Add pasta and the cheeses, add another ladleful of cooking water and some white wine, more hand-torn basil and turn off the heat. Mix thoroughly for one more minute or until the cheese has melted and turned into a creamy sauce that perfectly coats the pasta.
Place spaghetti on a serving plate. Top with the remaining zucchini, pepper and more grated parmigiano reggiano.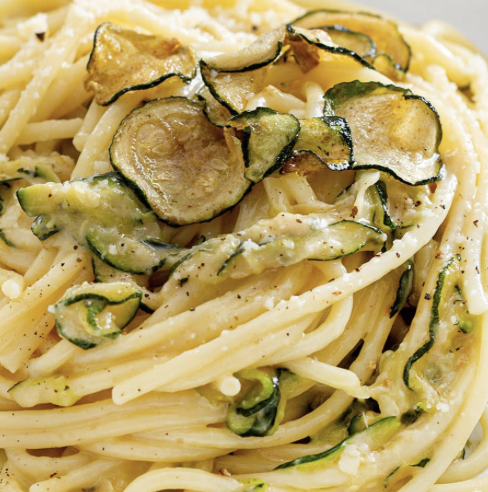 Mediterranean Lemon Tuna Capellini
Ingredients for 3 servings
1/2 pound capellini pasta (1/2 box), thin spaghetti works too
3 lemons, zested and juiced
¼ cup extra-virgin olive oil
½ cup grated Parmesan cheese
2 tablespoons minced fresh parsley
2 cloves garlic, minced
½ teaspoon salt
Crushed red pepper flakes to taste
1 (5 ounce) can tuna packed in oil, if using tuna in water add some more olive oli
1 (15.5 ounce) can canellini beans, drained and rinsed
Optional:
Capers
Olives (chopped Kalamatas)
Crumbled feta cheese
Quartered canned artichokes
Directions

Fill a large pot with salted or broth water and bring to a rolling boil. Stir in capellini, bring back to a boil, and cook over medium heat until tender yet firm to the bite, 4 to 5 minutes.
Squeeze lemon juice into a large bowl, removing all the seeds (you can use bottled lemon juice, add more if omitting zest). Pour in olive oil and mix to combine. Mix in Parmesan cheese, parsley, (lemon zest), garlic, salt, and crushed red pepper until well combined. Add in tuna, flaking and separating larger pieces. If using, add feta, olives, capers and/or artichokes. Carefully fold in cannellini beans.
Add pasta water to sauce, drain pasta and add to the tuna mixture. Toss to combine, sprinkle some more parsley and parmesan top and serve immediately.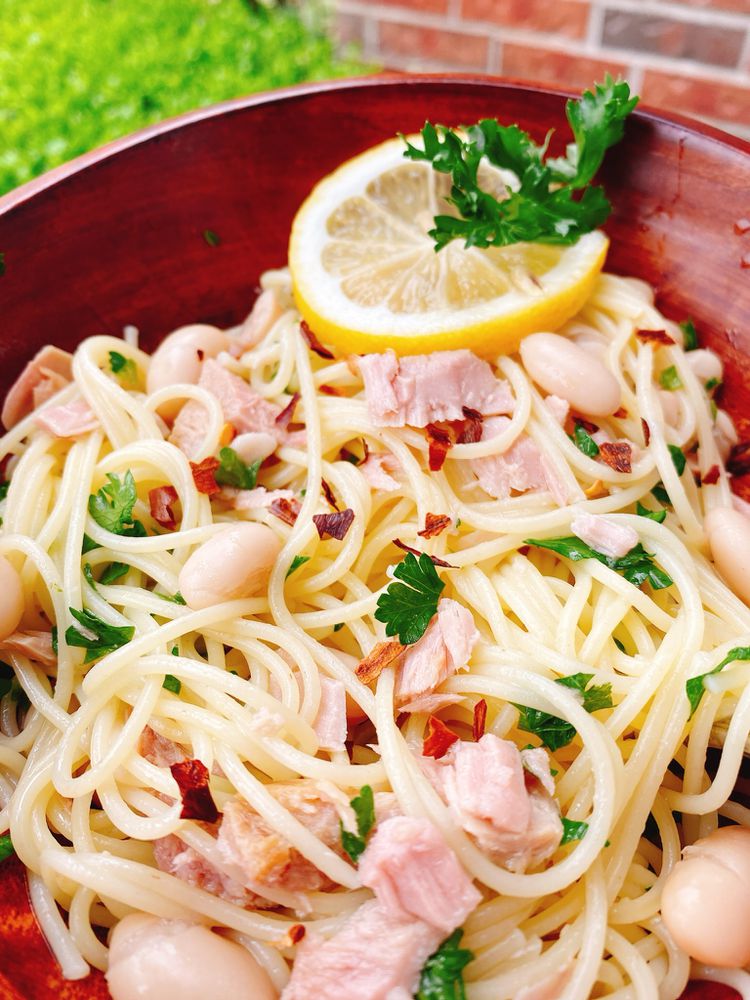 Ahi

Tuna Poke Bowls
Ingredients
1/2 cup soy sauce
2 tablespoons vegetable oil
1 tablespoon sesame oil
2 tablespoons honey
1 tablespoon Sambal Oelek (see note)
2 teaspoons fresh grated ginger
3 scallions, white and green parts, thinly sliced
1 pound sushi-grade ahi tuna (such as yellowfin or big-eye tuna), diced into ¼ or ½-inch pieces
2 cups sushi rice, cooked according to package instructions (any other type of rice or grain can be substituted)
OPTIONAL TOPPINGS
Seaweed Salad
Sliced avocado
Sliced cucumber
Edamame
Gari / Pickled ginger
Diced mango
Red peppers
Roasted Corn
Green onions
Fried Onions or Fried Garlic
Pickled Cabbage or Kimchi
Potato chips or wonton crisps
Sesame seeds
Jalapeno Slices
Cilantro
Sambal Oelek
Directions

In a medium bowl, whisk together the soy sauce, vegetable oil, sesame oil, honey, sambal oelek, ginger, and scallions. Add the tuna and toss. Let the mixture sit in the fridge for at least 15 minutes or up to 1 hour.
To serve, scoop rice into bowls, top with tuna poke and desired toppings. You will have extra sauce for drizzling over the toppings; serve on the side.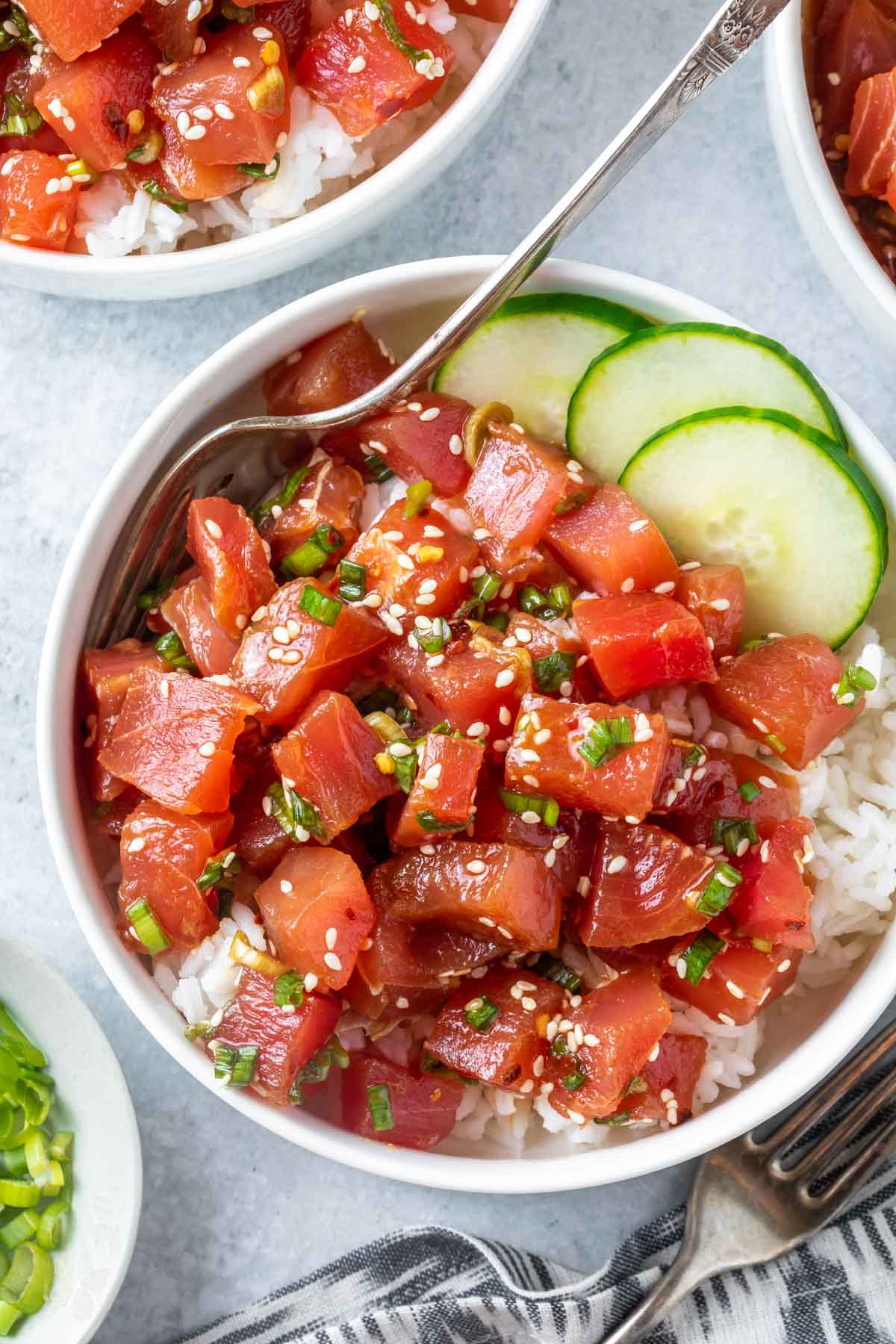 Smashed Potatoes and Salad
Ingredients
2 lbs potatoes (cooked)
4 tbs olive oil
Salt & pepper
Garlic Powder
Fresh (dried will work in a pinch) Rosemary
Chives (fresh is best but dried is ok)
Shaved or shredded Parmesan
To top:
Sour Cream, Bacon & Chives or (even better) make your own herb sauce from greek yogurt, dijon, and fresh herbs
Directions

Preheat oven to 425F. Line a large baking sheet with parchment paper and spray some light olive or veg oil on it.
Smash the potatoes (I use the underside of my coffee cup). They should come out about 1/2 inch thick.
Brush the smashed potatoes with olive oil, slat them well and add fresh pepper. Then spice them with rosemary, garlic powder and chives and cober them with the parmesan.
put them on the cookie sheet and bake for approx. 25 min, until the smashed potatoes turn golden brown.
If you like them crispy, you can broil them after that.
Serve with a nice mixed salad.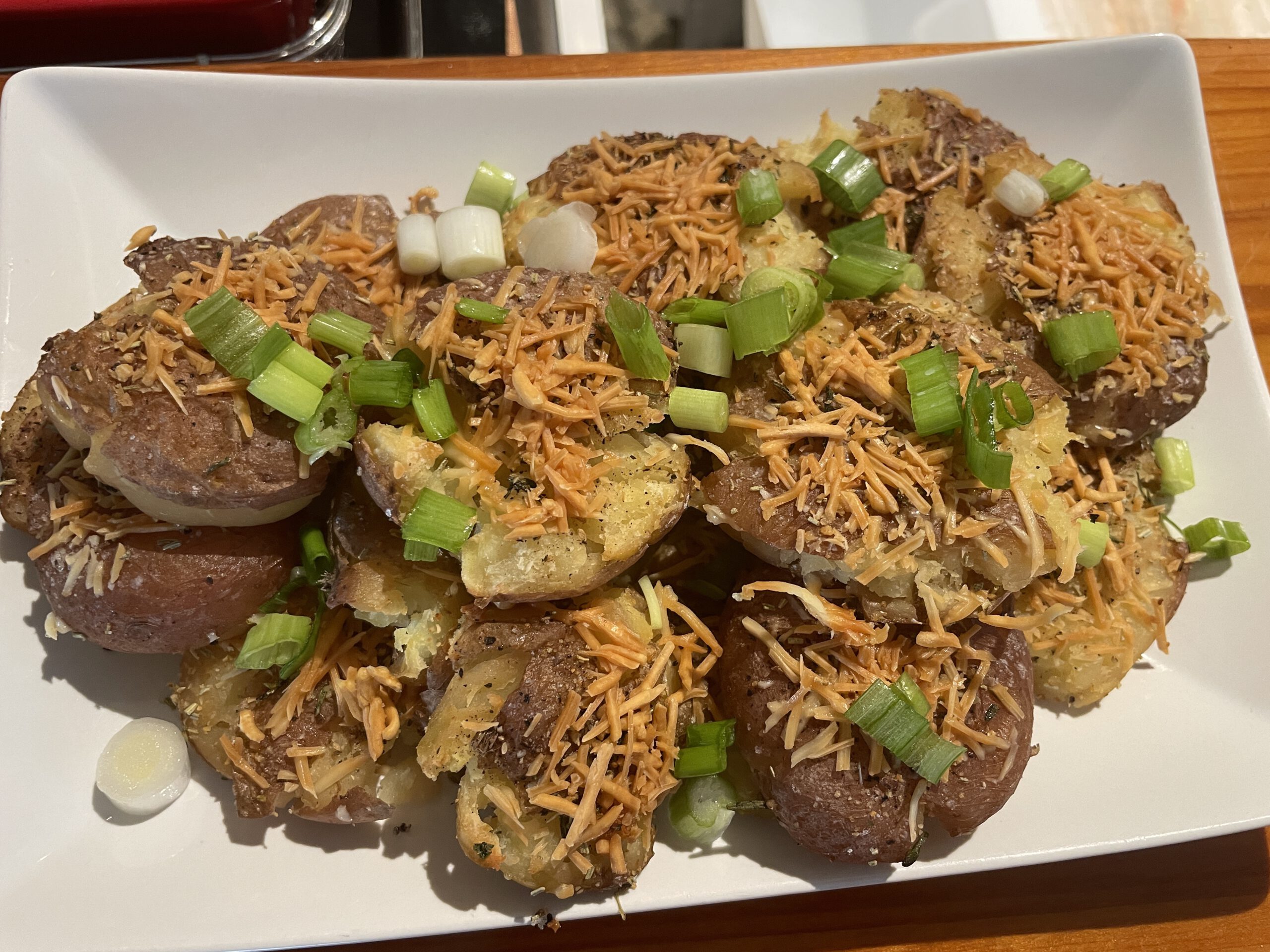 Easy Kimchi
Ingredients
5 pounds napa cabbage
1/2 cup kosher salt
1.5 cups sweet juice
1 cup crushed garlic
1 tbs ginger, minced
1/2 cup onion, minced
1/2 cup fish sauce
1 cup hot pepper flakes (or to taste)
5 green onions (diagonally sliced)
Optional:
¼ cup of carrot, julienned
1 cup leek, chopped
1 cups radish, julienned
Finely sliced sweet peppers
Directions

Trim the discolored outer leaves of the napa cabbage. Cut the cabbage lengthwise into quarters and remove the cores. Chop it up into bite size pieces. Soak the pieces of cabbage in cold water. Take it out and put it into a large bowl. Sprinkle it with salt. Every 30 minutes, turn the cabbage over to salt evenly (total salting time will be 1½ hours). 1½ hours later, rinse the cabbage in cold water 3 times to clean it thoroughly.
Drain the cabbage and set aside.
Make kimchi paste: Place the juice into a large bowl. Add fish sauce, hot pepper flakes, crushed garlic, minced ginger, and minced onion and blend in food processor for 1 minute. Add green onions, chopped leek, Korean radish, and carrot. Mix all ingredients well and your kimchi paste is done.
Add all the cabbage. Mix it by hand.
If your bowl is not large enough to mix all the ingredients at once, do it bit by bit.
Put the kimchi into an air-tight sealed plastic container or glass jar.
You can eat it fresh right after making or wait until it's fermented (about 2 days in the fridge). The longer it ferments, the better it gets.